New Voices Competition 2023/2024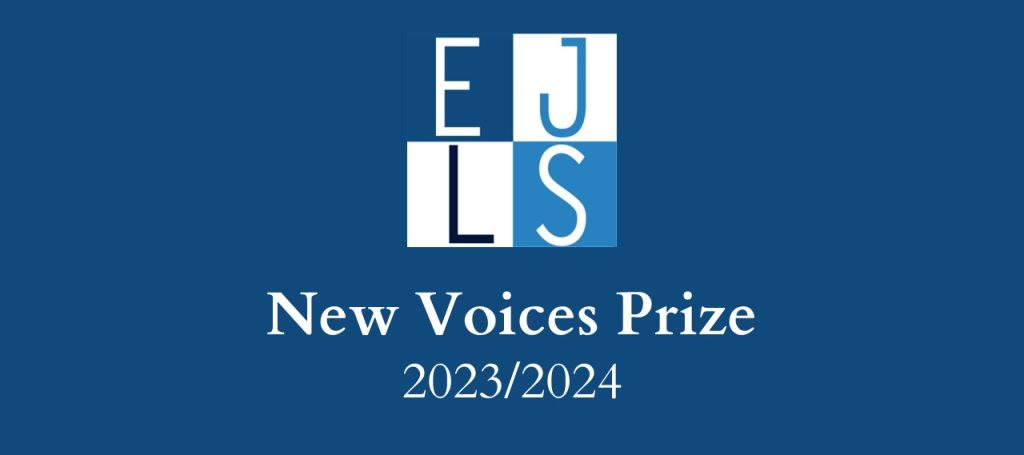 Call For Papers
New Voices Prize 2022/23
The EJLS is pleased to announce its New Voices Prize for the academic year 2023/24. The €500 prize will be awarded to the author(s) of the best New Voices article included in issue 15(2) or 16(1) of the EJLS, due for publication in fall 2023 and spring 2024.
New Voices articles are short-format contributions which offer emerging scholars an opportunity to present innovative ideas in a succinct, direct manner. New Voices submissions should be between 4,000 and 5,000 words (including footnotes), formatted in conformity with the EJLS Style Guide, and include a short abstract (150-200 words).
See full guidance on submitting to the EJLS here.
The Journal defines 'early-career scholars' as LLM, JD, PhD (or equivalent, e.g. JSD) students and postdoctoral researchers who defended their doctoral thesis within the last five years. Those who are not currently undertaking a degree must be within five years of graduating from their highest academic degree to date. Authors must set out how they meet this definition at the time of submission.
The winning entry will be selected by a committee of law professors at the European University Institute.
For more details about the New Voices format, click here.
The EJLS accepts New Voices submissions on a rolling basis. However, to maximise the likelihood that the submission will proceed through the peer-review and editing stages in time to be included in issue 15(2) or 16(1), we strongly encourage authors that want to take part in the competition to send their New Voices submissions as soon as possible, and in any case by 1 December 2023.